General Situation of Expats' Habitation in Shenzhen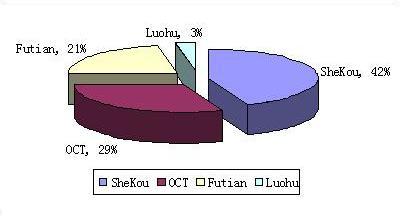 42% of the expats live in Shekou,29% of them live in OCT(Overseas Chinese Town),21% in Xiangmihu and Futian CBD and few of them live in Luohu.
At present, the high-end housing rent market focus on Shekou, OCT(Overseas Chinese Town),and Xiangmihu. However, the tenants in these areas are diverse. Shekou's tenants are mostly from America, Europe and Japan, while in OCT,tenants are mainly Asian and European. In Xiangmihu, tenants from Singapore and Korea occupy bigger proportion. Among these areas, Shekou is the most preferred, then OCT. Xiangmihu is now nearly saturated.Though Luohu occupies a relatively considerable proportion of top 500 enterprises, it can not be the preferred choice for expats habitation(especially for family habitation) because of its high living density and evident comparative habitation inferiority with Nanshan. However, there are lots of hotel apartment which attract some single businessmen.
The high-end residences on renting inside Shekou, OCT and Xiangmihu are obviously hotter than the ones around the areas. Firstly, for the foreign tenants, they hope to inhabit ate in the districts that have similar architectural style with their hometown's. Therefore, Shekou-characterized by European town style, OCT-characterized by Italian type, Xiangmihu-characterized by Singapore atmosphere, have become the favorite. At the same time, numerous expats are gathering in Shekou, OCT. Especially in Shekou, there are international schools, international women union and churches. They are applauded by the expats. Accordingly, Shekou gets the long term championship in Shenzhen's housing lease returns.
The districts attracting the expats are the following:

Whale Garden, Hillside Villas: Due to the influence of the preliminary business of shipping and oil company, areas like Whale Garden Villa and Hillside Garden where are close to the Sea World in Shekou has formed the expats' center of habitation, social interaction and entertainment. They are well appreciated by the expats.
The newly built high-end habitation communities like Coastal Rose Garden, Mont Orchid Riverlet and the Peninsula are becoming more and more favored by the expats ,which boast of their comfortable habitation environment, rare Sea view
resource and typical foreigners' community.
Portofino in OCT(Overseas Chinese Town),Donghai Garden, Huangpu Garden in Futian are newly built, high end communities. That they resort the natural environment, adjacency to the city center as the priority, has become the newly booming noble community of expats. The European taste of Portofino is based on the blueprint of Italian town, which enhance the expats' preference. Thus, it is the important reason that the expats(including the overseas Chinese) choose them. As for Donghai Garden, it boasts of its perfect mate infrastructure and quality property management.
Mangrove Bay: layout and sea view are attempting to attract Foreigners ' resonance.
Shuixie Huadu and Hongrongyuan Xiyuan:geographic superiority, people from Taiwan and Singapore are in favor of the city life.

Sinolink Garden:people from more than 30 countries are inhabiting here. This accumulate effect is attractive to
the foreigners.